Wednesday February 27, 2019
Hello and welcome to my blog.
TAG YOU'RE IT.. USE A TAG ON YOUR CARD
We have three sponsors for this challenge..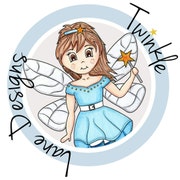 Prize ~ Two Digital Images
& Two Coordinating Digital Paper Sets
Are you interested in digital sentiments, papers and other embellishments? How about a badge made especially for your blog? If these are items you are interested in, you are going to want to check out Décosse's Dynamite Doodles. My name is Lisa and with over 200+ posts of freebies to choose from, and new ones added often, I just might have what you are looking for. Along with the freebies I offer, I also create blog badges, watermarks and digital Scrapbooking Kits. I also sponsor a number of challenge blogs throughout the year and it is my absolute pleasure to have the opportunity to sponsor the Crafty Gals Corner Challenge Blog!
If you have the time, I'd love for you to pop by and visit me. There is always inspiration to be found among my many different features. Come and take a look--I hope you have a blast!
I am using the image called Sassy and Me from
Cute as a button..
I colored the image with copics and using my cloud and ground template and Ranger inks created the background. I used a Spellbinder tag and some Tech. Tues. hearts to add to the tag and tied a bow in the twine. I love her red shoes.. I went over her shoes with Spectrum Noir sparkle pen.
Challenges:
Everybody art #441 - animal
Papercraft challenge #31 - all critters
QKR stampede #336 - anything goes
Creative fingers #158 - anything goes
Crazy 4 challenge #472 - pet
Inkspirational #181 - use your stash
Artistic inspirations #212 - anything goes/opt. love it up
Digi choosday wk. 9 - anything goes
Word art Wednesday wk. 376-377 - anything goes